The History of Star Headlight & Lantern Company
The Tradition Shines On!
Star Headlight & Lantern was founded in 1889 by five founding owners. Four months later, George Washington Jacobs bought the sole controlling interest of the company.
Since then, the company has maintained production in Rochester NY, and its vicinity with the current headquarters and manufacturing center in Avon, New York.
The Jacobs family has guided the company through five generations of leadership and has since become the leader in the rail, amber light, and emergency lighting markets.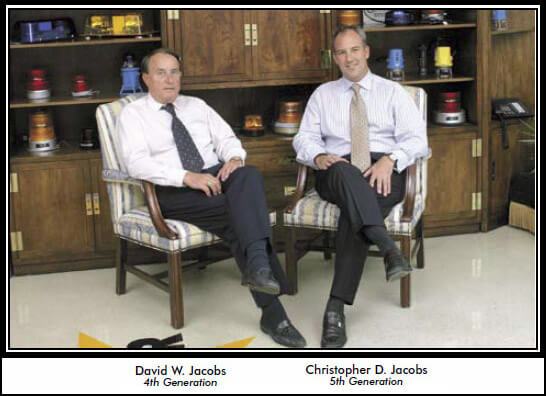 Providing customers with emergency lights for five generations
Our growth and a continuing effort to enhance our position as the leading amber light company led us to move to a larger, more spacious facility and expand our product line.
We're still located in the Finger Lakes Region of Upstate New York but the new facility accommodates all of our in-house electronic and finished product assemblies. This includes plastic injection molding, metal fabrication, product engineering, warehousing, shipping, customer service, sales, and technical support.
Having all of these functions under one roof gives us the capability to engineer, build, expedite, and ship your product quickly and efficiently.
Our ISO 9001-2015 Certification and its ongoing programs have further developed our commitment to quality and customer service. We're determined to increase our industry advantage by providing our clients with the most reliable, state-of-the-art warning systems.
Star & Signal Vehicle Products
In February back in 2000 Star was proud to acquire the Signal Vehicle Products brand name and its assets.
Established in 1974, Signal Vehicle Products is a leader in the police and fire emergency vehicle products industry. Its product line added extensive value to our own warning systems product offering.
The entire SVP operation was moved to New York from Florida so we could take full advantage of our new technology and advanced manufacturing capabilities.
Since 1889, Star Headlight & Lantern, and our family of dedicated employees have brought superior quality, service, and customer commitment to the industry.
Today and into the future, we'll continue to meet your needs with the same enthusiasm that we've been known for over the last 130 years.
Our customers are our most valuable asset so we look forward to working with you in the future.
Historical Catalogs
Click on the covers below to display Star Headlight & Lantern product catalogs from the past.
The company's history is divided into five eras correlating to the five generations of the Jacobs family ownership.
To view an eras, click on one of the five pictures below.