Extra bright PC amber Lineum LED heads

12 Customer selectable flash patterns

Economically designed (electronics with only the features you need)
Compatible with 7 power wire roll back tow trucks

Power is drawn from the enable wires, no need for a constant hot wire
Compatible with bulb out sensors (each input wire supplies current for that function)
Built in Stop/Tail/Turn functionality

Two flash enables (ex. front and rear enable)

One steady burn enable (ex. work lights)
Dimensions: 2 ½"H x 12"W x 58"L

Voltage: 10-16V DC

Approvals: SAE Class I when properly configured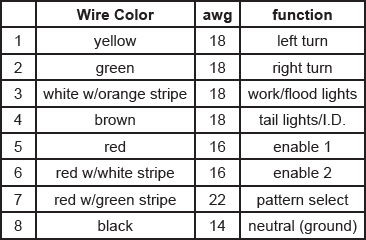 1550-TB8-Y 58", 8 PC Amber LED, Towbar, stop/tail/turn lights, worklights, clear domes
1550-TB10-Y 58", 10 PC Amber LED, Towbar, stop/tail/turn lights, worklights, clear domes
1550-TB12-Y 58", 12 PC Amber LED, Towbar, stop/tail/turn lights, worklights, clear domes
1550-TB4-YR 58", 8 PC Amber/4 Red LED, Towbar, stop/tail/turn lights, worklights, clear domes
1550-TB8-YR 58", 4 PC Amber/8 Red LED, Towbar, stop/tail/turn lights, worklights, clear domes

Phazer Tow Bars - Manual

Phazer Tow Bars - Product Flyer

120-39PB Mounting Kit-Manual

120-39SS Lightbar Mount Kit - Manual

920-39T Direct Mount Kit for All Star Lightbars PLIT435 - Manual

120-39GB Go Light Mounting Bracket-Manual
Phazer Confugurator Software:

Description: This program Allows the user to configure a bar to be ordered and or set options on an existing bar which can be saved and sent to the bar using the Phazer bar Programming utility.
Features:
Configure a light bar including Length, Patterns, Enable wires

Select Wire configuration and wire length, add Mounting hardware

Simulate how each function will look

Save and create a PDF to order your bar

To find out what version you need to install 64-bit or 32-bit, On a windows 10 based PC you will need to go to the start menu and type "system" and hit enter to open "system control panel". Under the list of specifications " system type" it will say 64 or 32 bit
Note: The programming utility is now built into the desktop version of the configurator below
Web based Configurator: (Works on Fire fox, Chrome & Apple Safari desktop/laptop computers).
Windows Desktop Configurator & Programmer:

PhazerTow Configurator ver. 1.15 32bit 08/16/21

PhazerTow Configurator ver. 1.15 64bit 08/16/21
Phazer Programming Software:
1. Once un-compressed double click the icon on your desktop. If the below screen appears click more info then click run anyways.
Possible warning screen 1: click more info


Possible warning screen 2: Click run anyways


2. Some antivirus software will kick back warnings or even delete the program from your system. To get around this you need to add an exception to the antivirus software, you can also try turning the antivirus software off to confirm this is the cause of the issue. Then help manual for your antivirus software to make a permanent exception.